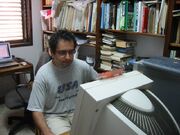 Welcome to the Shlomi Fish Wiki
Edit
Welcome to the Shlomi Fish Wiki. It is aimed at empowering collaborations (such as translations, copy-editing, derivative works, etc) in regards to the various public creations of Shlomi Fish ( http://www.shlomifish.org/ ), including his fiction works, non-fiction articles and essays, and technical documentation and software.
Useful Categories
Edit
Latest activity
Edit
Ad blocker interference detected!
Wikia is a free-to-use site that makes money from advertising. We have a modified experience for viewers using ad blockers

Wikia is not accessible if you've made further modifications. Remove the custom ad blocker rule(s) and the page will load as expected.